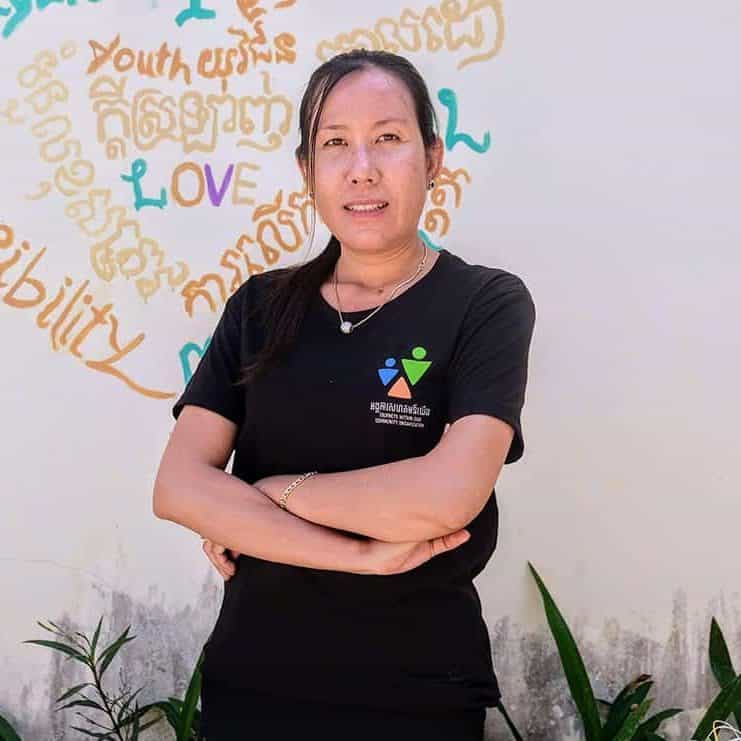 Konthea Mean
Managing Director since 2020
Konthea has been involved with JWOC for a decade under various roles; including, Project Manager, Education Manager and Programs Manager as well as mentor, friend and inspiration.
She spent her time after high school working at a private school and volunteering to teach young children from poor families. Originally from Banteay Meanchey, she moved to Siem Reap in 2013 after completing university. Konthea chased her dream of working for an organization that changed lives; later explored new possibilities to live independently, and ended up growing professionally through newfound opportunities.
She is now managing the whole organization ensuring the University Scholarship, Better Futures and Access Program students reach for their dreams with the best tools and preparation available. Konthea holds a Bachelor of Teaching English to Speakers of Other Languages (TESOL) from Meanchey University.
Ariel Tudela
Communications and Fundraising Manager
Born in Miami, USA to a Cuban immigrant family, Ariel got a degree in Visual Arts with a concentration on photography and painting at New World School of the Arts High School and then Florida International University.
In 2008 Ariel moved to Beijing, China where he spent a decade teaching English, American culture, and Art appreciation. He later helped found a bar/restaurant and then a second bar in Phnom Penh, Cambodia; before ultimately settling in Siem Reap in 2019, and starting with JWOC in 2021.
Ariel's main role is to support relationships with donors and partners, manage social media and other communications, and contribute to the development of JWOC as a key organization working for youth development in Cambodia.
Sokun Lin
Administration and Finance Officer
Sokun is from Kampong Thom Province. After finishing high school, she continued to study in Phnom Penh at the Royal University of Law and Economics majoring in Management, graduating in 2003. She worked for 4 years as a Human Resource Officer in PP, then moved to Siem Reap to work for an NGO.
In June 2022 she joined JWOC as the Administrative & Financial Officer. She brings well practiced office management skills to contribute to JWOC's smooth day-to-day operations to help our youth achieve better future careers.
Phe Choovy
Communications Officer
Choovy started as a JWOC University Scholarship student in 2018, and is finishing her fourth-year
at South East Asia University majoring in teaching English (TESOL).
She started working part-time as the Communications Assistant, but now she is experienced enough to work full-time. She collaborates closely with the Communications Manager on important tasks such as building and maintaining donor relations, demonstrating the impact of JWOC's work through social media, securing funding, and managing student communications. Every day Choovy is putting her best effort into helping JWOC grow and develop to help more students just like her well into the future.
Kong Somonicheat
Employment and Wellbeing Coordinator
Monicheat oversees the effectiveness of the University Scholarship and Better Futures programs; as well as focusing on students' employment, wellbeing, and building team spirit among JWOC staff.
Her academic journey and work experiences have helped her understand how rural, low-income young people have great difficulty in accessing quality education. Joining JWOC has provided her the opportunity to empower youths to fulfill their potential. She plans to make a difference by bridging the opportunity gaps and focusing on essential life tools, and resources in the community. Monicheat graduated with a degree in International Relations from the Institute of Foreign Languages at the Royal University of Phnom Penh in 2022.
Borey Tek
Youth Leadership and Project Management Trainer
Borey is a JWOC scholarship Alumni, graduating with a degree in TESOL in 2020. He actually started working at JWOC in 2018 under various job titles such as Free Classes Officer, English teacher, and Communications Manager.
As a Leadership and Project Trainer, Borey primarily works with JWOC's youths to implement mini-projects in their community as well as on the JWOC campus. Moreover, as a Leadership and Project Management Trainer to all JWOC students, he ensures that they are ready to bring impact to their communities and develop their own solutions to issues that youth in Cambodia currently face.
Oukdom Doeum
Education and Enhancement Coordinator
Oukdom is responsible for supervising the quality of JWOC's programs as well as student performance management for the University Scholarship, Better Futures and Access Programs. He is also working closely with teachers and volunteers to check their plans and help them to run the enhancement activities as well as progress and quarterly reports. Oukdom graduated with a Bachelor's Degree in TESOL from Paññāsāstra University of Cambodia.
Savry Ek
Better Futures Program Officer
Ek Savry was born in Puok district, Siem Reap province. After graduating high school, she studied in the Food and Beverage department at Sala Baï Hotel and Restaurant School. In 2015, Savry received a JWOC University Scholarship to study in the University of Siem Reap, graduating in 2018 majoring in TESOL.
During her scholarly life, she got a job teaching in the non-profit organization (PLF). In 2022 she began working at JWOC as the Better Futures Program Officer. Her role is to ensure the successful recruitment, mentoring, training, career guidance and events for the Better Futures program and Access Program.
Mean Srey Im
Scholarship Program Officer
Srey Im was born in Bonteay Meanchey province. She finished high school in 2017 and graduated from University of Management and Economics in 2022. Her previous work experience includes time as a Teacher Assistant, where she worked closely under the main teacher with classroom management and operations.
Her current role is to ensure the success of University Scholarship student recruitment and mentoring.
Mok Boda
English Instructor
Boda is the newest teacher at JWOC. His role is to teach English language to students in the Access Program, Better Futures and University Scholarship program. He graduated from Paññāsāstra University of Cambodia, majoring in International Relations in 2021. Boda has worked as a part-time English Teacher in Siem Reap and also as a teaching assistant while in university, and also experienced working with NGOs both professionally and voluntarily.
He says "As an educator, the major achievement I wish to accomplish is delivering a quality education to all students. I strongly believe students can apply English language effectively in terms of communication in their personal and professional future."
Kan Sokhit
Computer Instructor
So Khit started working with JWOC in 2021. Teaching students to use computers is his passion. He focuses on teaching touch typing, Microsoft Office, email guideline and protocol, online research skills and other tools for digital proficiency that make technology accessible to students across our programs. All of this improved his capacity to teach, assist students, and maintain lab materials. He is currently enrolled in Year 3 studying Information Technology at the University of South-East Asia Siem Reap.
Yi Bunly
Leadership Trainer Assistant
Bunly is a current JWOC University Scholarship student and the Leadership Trainer Assistant. He has been a scholarship student since 2018. He is now in the last year of his Bachelor's degree program at the University of Southeast Asia with a Major in Teaching English as a foreign language.
Bunly started his current position in May 2022. His responsibilities include assisting the Leadership Trainer, organizing and running educational trainings, special events, and workshops for students, alumni and staff.
Thida Klouk
Cleaner and groundskeeper
Thida has been working at JWOC since 2015. Her main responsibilities include keeping the JWOC space neat and tidy. She brings a variety of skills to the role, and has even helped us by making new curtains, filter covers and soap bags. Thida's son and daughter also attend English classes at JWOC's Youth Learning Center in addition to their studies at public school.
Ming Sin Sopheak
Cleaner and groundskeeper
She is the new 2022 cleaner working the morning shift. Every day, she gets to work at 7:30 AM. She always ensures that the environment at JWOC is clean and free of trash and that the flowers and plants are blooming. She also provides the staff with enough clean water to drink. Her other responsibilities include the safety of our students and their motorbikes and bicycles. In the mornings she is always the first person you meet when you enter our Youth Learning Center.
Theara Nhoum
Security Guard and Groundskeeper
Theara has been a member of JWOC's staff for 2 years. Often the last person to leave the office, he is responsible for maintaining our Learning Center and ensuring the safety of our students in the afternoons.
Sreynip
Napping Queen and Cuddle Master
She can take vacation time whenever she wants; and she is the foremost expert in finding the sunniest or shadiest spot in the JWOC Learning Hub. She can always replace any absent staff by keeping their office chair nice and warm while they are away. JWOC is safe every night because of her. We love you Nip!